Day 29, yesterday:

Missouri. Nearly die from gas fumes. Kansas. Kansas. Kansas. Kansas. Road Construction. Kansas. Road Construction. Kansas. Kansas.

Today is a six hundred mile journey across Kansas, famous as the launch pad for both Dorothy and Bob Dole. Dorothy, however, had the common sense not to use her fame to pitch impotence products. (Hmmm...maybe the Tin Man might be a good Viagra spokesman.)

I have just a quarter tank of gas when I leave Saint Louis and I pull over at the first service exit on the Kansas Turnpike. Immediately after I return to the turnpike the car fills with gas fumes and I start to feel dizzy and nauseous. The next exit is four miles away and I drive like a nun out of hell with the windows down and the fan blowing harder than a Castro porn star.
(A sane person would have pulled over at the side of the turnpike but my brain was stewing in gasoline.)
Fuel leak? Nope. Absorbent Earth Mother shoes. It seems the porous soles of my sandals soaked up diesel fuel from a spill at the station - enough diesel for the fumes to make me ill. Nothing reinforces humility like scrubbing floor mats on a turnpike exit.
This, my readers, is the sole moment of excitement for the next eight hours (two of which are spent with the windows down as I attempt to air out the MINI).
I stop in Russell, Kansas, home of Bob Dole and Arlen Specter. (Does anyone remember Arlen Specter? Me neither.) A grain elevator declaring Bob's status anchors one end of Main Street while speakers attached to every light pole pour forth a baseball broadcast.
Kansas features road signs every few miles stating: "Every Kansas farmer feeds 128 people!", "Beef: It's Whats for Dinner!", and "Life: A Great Choice!". The rest stops have a mascot, Parky, which oddly is a kangaroo encouraging people to use trash cans.
See? If it weren't for a near death experience just across the Kansas border, there really would not be much to say about Kansas.
Day 30, today:
Denver, wash the car, water park.
I'm staying with Matt, an old acquaintance. He has a cat named Satan who hides behind the recline and lunges at my ankles while screaming like a nine year old girl.
Matt and I spend the afternoon at Water World floating in wave pools and watching hot boys and lifeguards.
Having provided no particularly interesting or humorous quips myself today, I turn to email I received from Leigh in to Stuckeys (see Day 28):
Sister Betty wrote: "Stuckey's is famous for their blue roofs and pecan logs (a delicacy I can't recall my mother ever letting me taste). "

Leigh writes: Believe me, darling, you didn't miss much. Basically it's spackle mixed with light Karo syrup, rolled in rancid, tannic cat litter--try it on a graham cracker! (Slice with a cheap white plastic knife to achieve full authenticity.)


I consider Stuckey's the consummate road trip experience. (I will admit it: I've become increasingly restless and envious as I continue to read your updates--I'm experiencing wander-lust blue balls. Very painful!!) It's sad there are so few Stuckey's left. Most were shut down in the early '80's, having been driven out of business by all the freeway-exit fast food joints.

I still remember when I was little and my grandparents would drive up to see us in Michigan from Florida, they would always bring us Stuckey's Coconut Honey and a pecan log (and usually a little polished rock with bent metal legs, and googlie eyes glued on). As my grandparents had taken a trip to Hawaii (to which they constantly referred), I was convinced for years that they got this coconut honey on their frequent excursions to the islands.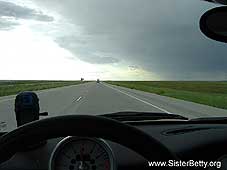 It was years later, on my own adult road trip and personal pee-stop at a midwestern Stuckey's, that I discovered the real source of their gifts--there they were, right next to the yellow plastic license plate holders reading, "If this RV's rockin', don't come a' knockin'!"
and "My grandson can beat up your grandson!"

Alas, sweet memories (rolled in crushed nuts): All the Stuckey's in Michigan are now "St. Julian Wine Tasting Huts" The roofs were all painted magenta--like cheap red wine stains on a wife-beater t-shirt.