Name
20th Street Stairs
Rating
Location
20th Street between Sanchez and Noe Streets.
Length
Less than one block
Stairs nearby
Sanchez Street Stairs
Liberty Street Stairs
Map
The 20th Street Stairs are located between Sanchez and Noe on 20th Street, just west of Delores Park. The stairway consists of two staircases, the more dramatic of which is located at the intersection of 20th and Sanchez. The second stairway is one block east on 20th and leads down to Noe Street.
Located just above Delores Park, the eastern end of the 20th Street Stairs jog through a garden cared for by neighbors and open into a panoramic view of San Francisco to the east. 20th Street continues west for a block before a second staircase descends to Noe Street. The western steps form terraces for apartments that open directly onto the stairs.
There are some impressive houses on both ends of the stairways and on 20th Street. If you enjoy San Francisco's urban architecture, then a walk over the 20th Street Stairs is a good afternoon jaunt.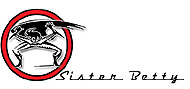 Stairways of San Francisco is a featured section of SisterBetty.org. Explore more here.

Click here for Sister Betty's favorite stairways.

Click here for a full list of stairways or
Click to sort By: Location - Length - Rating
Live Internet Camera
Road Trip 2003
Road Trip 2004
San Francisco Photographs
Trains
Railroad Graffiti

Have a favorite stairway? Know a hidden stairway Sister Betty has not yet found? Click here to tell Sister Betty where it is.
Contact Sister Betty
©SisterBetty.org
All rights reserved.