Check back shortly for a map including all of San Francisco's Stairways, Stairs, and Staircases.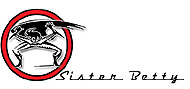 Stairways of San Francisco is a featured section of SisterBetty.org. Explore more here.
Filbert Steps
Greenwich Street
Iron Street Stairs
Saturn Street Stairs
Vallejo Street Stairway
Vulcan Steps
Iron Street Stairs
Vinton Street Stairs

Click here for a full list of stairways or
Click to sort By: Location - Length - Rating
Live Internet Camera
Road Trip 2003
Road Trip 2004
San Francisco Photographs
Trains
Railroad Graffiti

Have a favorite stairway? Know a hidden stairway Sister Betty has not yet found? Click here to tell Sister Betty where it is.
Contact Sister Betty
©SisterBetty.org
All rights reserved.