Name
Sanchez Street Stairs
Rating
Location
Sanchez and 19th Streets, between Noe and Church.
Length
Less than one block
Stairs nearby
20th Street Stairs
Liberty Street Stairs
Map
Located where Sanchez Street crosses 19th Street, the Sanchez Street Steps connect upper and lower Sanchez Street. The upper staircase decends to a landing and then separates into two lower stairways.
One of the nicest features of the Sanchez Street are three small landings with bench seats. Each of these seats provides a view of the city and what would be a comfortable place to sit. Unfortunately, these landings also provide a small space out of direct view from either the street above or below and, given the proximity of the stairs to Delores Park and the Mission, have become shelters for homeless and drug dealers and addicts. While more frequent police patrols have improved the situation somewhat, the stairs are almost always filled with some manner of debri and at night would generally not be considered safe.
Graffitti and refuse aside, during daylight the stairs make a nice addition to a stairwalk that includes both the 20th Street Stairs and the Liberty Street Stairs.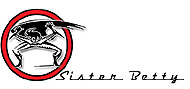 Stairways of San Francisco is a featured section of SisterBetty.org. Explore more here.

Click here for Sister Betty's favorite stairways.

Click here for a full list of stairways or
Click to sort By: Location - Length - Rating
Live Internet Camera
Road Trip 2003
Road Trip 2004
San Francisco Photographs
Trains
Railroad Graffiti

Have a favorite stairway? Know a hidden stairway Sister Betty has not yet found? Click here to tell Sister Betty where it is.
Contact Sister Betty
©SisterBetty.org
All rights reserved.