Castro
Castro/Delores Park
Castro/Haight Ashbury
Chinatown
Telegraph Hill
More than one block long
One block long
Less than one block
Very short

Oustanding stairways - Don't leave the planet without seeing these stairs.

Nice stairways with unique features or views.

Good if you are in the neighborhood or out doing a stairwalk

Not Anything Special. Stairways that you might consider if you are on a stairwalk but won't find on postcards.

Stairways you'll only see if you have the misfortune of dating someone who lives near them.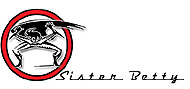 Stairways of San Francisco is a featured section of SisterBetty.org. Explore more here.
Live Internet Camera
Road Trip 2003
Road Trip 2004
San Francisco Photographs
Trains
Railroad Graffiti

Have a favorite stairway?
Know a hidden stairway?
Contact Sister Betty

©SisterBetty.org
All rights reserved.