Located just half a block from the Vulcan Steps, the Saturn Street Stairs connect Ord Street on the lower end to Saturn Street on the upper. A little over a block long, the steps wander through gardens cared for by the neighbors who live on either side. Like the Vulcan Steps, many of the houses on the Saturn Stairs are accessible only by foot.
The Saturn Stairs are constructed from a mix of materials. On the upper and lower ends, the stairs are concrete. In the center, lumber and packed earth form part of the stairs. Terraces complete with benches and views of the city offer comfortable resting points.
When exploring these stairways, I recommend you go up the The Vulcan Steps, travel over to the Levant Street Stairs, and then make your way back down the Saturn Street Steps.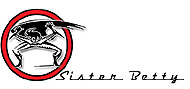 Stairways of San Francisco is a featured section of SisterBetty.org. Explore more here.

Click here for Sister Betty's favorite stairways.

Click here for a full list of stairways or
Click to sort By: Location - Length - Rating
Live Internet Camera
Road Trip 2003
Road Trip 2004
San Francisco Photographs
Trains
Railroad Graffiti

Have a favorite stairway? Know a hidden stairway Sister Betty has not yet found? Click here to tell Sister Betty where it is.
Contact Sister Betty
©SisterBetty.org
All rights reserved.