San Francisco has a history of naming its ugliest streets for famous people. Alice B. Toklas Lane is a scary alley that hosts drug dealers and hookers, Caesar Chavez Avenue is a run down street that primarily serves as a freeway onramp, and the Peter Macchiarini Steps are weather worn stairs fronting a decaying street. *
Located near the Vallejo Street Stairway, the Peter Macchiarini Steps commemorate a San Francisco modernist sculptor and jeweler known for his depiction of the Emperor Norton. (The Emperor Norton was a San Franciscan who declared himself emperor and was known for making and distributing his own private currency.)
The steps are two staircases that run on opposite sides of the shabby street. The upper end of the stairs afford a decent view of downtown. Aside from this one minor note, the Peter Macchiarini Steps offer little attraction.
(*I suspect should I ever have the misfortune to become sufficiently famous to merit a street in San Francisco, they will select a trash-bin lined, sewage-leaking byway somewhere near a bar that discharges drunks to regularly piss against the walls under the street sign bearing my name. Of course, that pretty much describes Alice B. Toklas Lane, and I suspect I shall never garner as much fame as she. In summary, if Parisians honored artists in the same manner as San Francisco, the Picasso Museum would be a cattle yard.)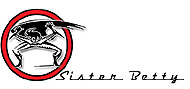 Stairways of San Francisco is a featured section of SisterBetty.org. Explore more here.

Click here for Sister Betty's favorite stairways.

Click here for a full list of stairways or
Click to sort By: Location - Length - Rating
Live Internet Camera
Road Trip 2003
Road Trip 2004
San Francisco Photographs
Trains
Railroad Graffiti

Have a favorite stairway? Know a hidden stairway Sister Betty has not yet found? Click here to tell Sister Betty where it is.
Contact Sister Betty
©SisterBetty.org
All rights reserved.