Telegraph Hill is covered with narrow, dead-end streets providing access to hidden houses. Reno Street is such a place. Just off Green Street, this narrow passageway, covered partially by the buildings around it, runs less than 100 feet before ending abruptly. Several apartment buildings open onto Reno Street and some of these apartments apparently use it for trash storage (note the discarded bathtub in the photograph).
You might turn your head to glance down Reno Street as you walk by, but the view is not worth maneuvering past the trash cans.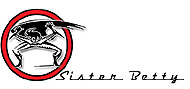 Stairways of San Francisco is a featured section of SisterBetty.org. Explore more here.

Click here for Sister Betty's favorite stairways.

Click here for a full list of stairways or
Click to sort By: Location - Length - Rating
Live Internet Camera
Road Trip 2003
Road Trip 2004
San Francisco Photographs
Trains
Railroad Graffiti

Have a favorite stairway? Know a hidden stairway Sister Betty has not yet found? Click here to tell Sister Betty where it is.
Contact Sister Betty
©SisterBetty.org
All rights reserved.