Calhoun Terrace is located just past the intersection of Montgomery and Union Streets on the edge of Telegraph Hill. A stern warning sign declares: "STAIRS DEAD END" - indicating perhaps a belief that stairs have to go through from one street to another to be worth visiting.
Dropping from a tight curve in Union Street, Calhoun Terrace is another stairway carefully tended by the neighbors. The garden is an urban jungle and the view of the bay is outstanding. If you don't mind having to reverse course, Calhoun Terrace is a good stairway to visit.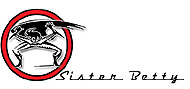 Stairways of San Francisco is a featured section of SisterBetty.org. Explore more here.

Click here for Sister Betty's favorite stairways.

Click here for a full list of stairways or
Click to sort By: Location - Length - Rating
Live Internet Camera
Road Trip 2003
Road Trip 2004
San Francisco Photographs
Trains
Railroad Graffiti

Have a favorite stairway? Know a hidden stairway Sister Betty has not yet found? Click here to tell Sister Betty where it is.
Contact Sister Betty
©SisterBetty.org
All rights reserved.