The Clifford Terrace Stairway is tucked against a building on the southeast corner of the Clifford Terrace and Roosevelt Street intersection. The stairs descend into sections to Saturn Street not far from the Saturn Street Stairs. The upper staircase has nice views to the southeast, while the lower end is surrounded by the odd mixture of houses on Saturn Street.
If you're walking the Vulcan Steps and Saturn Street Stairs, you'll likely use the Clifford Terrace Stairway.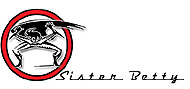 Stairways of San Francisco is a featured section of SisterBetty.org. Explore more here.

Click here for Sister Betty's favorite stairways.

Click here for a full list of stairways or
Click to sort By: Location - Length - Rating
Live Internet Camera
Road Trip 2003
Road Trip 2004
San Francisco Photographs
Trains
Railroad Graffiti

Have a favorite stairway? Know a hidden stairway Sister Betty has not yet found? Click here to tell Sister Betty where it is.
Contact Sister Betty
©SisterBetty.org
All rights reserved.