This elegant stairway rises from the top of the Filbert Steps to the base of Coit Tower. Recently constructed, each stair is engraved with the names of donors to the restoration of Coit Tower.
The top of the stairs lead to a wide lawn with unobstructed views to the south and east.
You're likely to use these stairs if you are headed up to Coit Tower.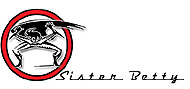 Stairways of San Francisco is a featured section of SisterBetty.org. Explore more here.

Click here for Sister Betty's favorite stairways.

Click here for a full list of stairways or
Click to sort By: Location - Length - Rating
Live Internet Camera
Road Trip 2003
Road Trip 2004
San Francisco Photographs
Trains
Railroad Graffiti

Have a favorite stairway? Know a hidden stairway Sister Betty has not yet found? Click here to tell Sister Betty where it is.
Contact Sister Betty
©SisterBetty.org
All rights reserved.