Located at the intersection of Market and Danvers, this staircase connects 18th Street to Market. Cutting through a drab cement wall, and located directly next to some equally drab buildings, this stairway is simply a shortcut to save having to walk an extra half block to Market Street.
If you've just come from the Douglass Street Stairs or Seward Alley, the Market and Danvers Stairway will get you to the other side of Market Street to see both the Vulcan Steps and Saturn Street Stairs.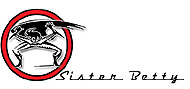 Stairways of San Francisco is a featured section of SisterBetty.org. Explore more here.

Click here for Sister Betty's favorite stairways.

Click here for a full list of stairways or
Click to sort By: Location - Length - Rating
Live Internet Camera
Road Trip 2003
Road Trip 2004
San Francisco Photographs
Trains
Railroad Graffiti

Have a favorite stairway? Know a hidden stairway Sister Betty has not yet found? Click here to tell Sister Betty where it is.
Contact Sister Betty
©SisterBetty.org
All rights reserved.