The Market & Storrie Stairway is located where Ord cuts across Market. A single block of Ord Street rests south and 20 feet below Market Street. The stairway connects this isolated block with upper Ord Street and also provides a shortcut from 18th Street to Market Street.
Surrounded by potential garden space, this stairway could be as attractive as other neighborhood stairways (20th Street Stairs, Douglass Street Stairs). Years of neglect and decay have left the stairway a canvas for aspiring graffiti artists.
If you are in the Castro, the Market & Storrie Stairway will provide a shortcut to Ord Street connecting to both the Vulcan Steps and Saturn Street Stairs.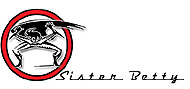 Stairways of San Francisco is a featured section of SisterBetty.org. Explore more here.

Click here for Sister Betty's favorite stairways.

Click here for a full list of stairways or
Click to sort By: Location - Length - Rating
Live Internet Camera
Road Trip 2003
Road Trip 2004
San Francisco Photographs
Trains
Railroad Graffiti

Have a favorite stairway? Know a hidden stairway Sister Betty has not yet found? Click here to tell Sister Betty where it is.
Contact Sister Betty
©SisterBetty.org
All rights reserved.